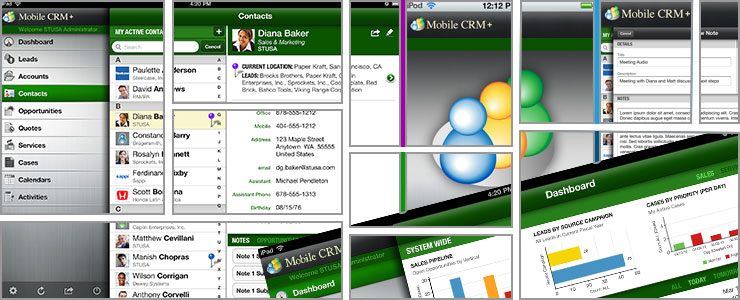 Mobile CRM+ is the finest mobility solution for Microsoft Dynamics® CRM and SalesForce.com because it addresses the challenges of mobility for CRM in uniquely compelling ways. Offering powerful features for users, unique benefits for IT and unparalleled value for Management, our leading mobile CRM application is the only solution that truly meets the needs of today's customer-centric company.
Here are 10 compelling reasons to choose Mobile CRM+ as your mobile CRM solution:
1.
Rich User Experience
Mobile CRM+ is designed and optimized specifically for mobile devices, instead of just shrinking Microsoft Dynamics CRM screens to fit on a smartphone. The result is a rich, familiar experience no matter what device your sales manager, CEO, sales executive, and other users choose.
2.
Works online and offline
Mobile CRM+ provides instant access to your CRM application and data – even without internet connectivity. Record changes are cached when offline and automatically synchronized when the signal returns. That means users can add and update CRM information anytime, anywhere.
3.
Capture information directly to your CRM server
Leave no data un-captured. Mobile CRM+ is equipped with tooEz technology that automatically captures information such as meeting notes, phone calls, leads, illustrations and archives them on your CRM server with little or no initiative from the mobile worker.
4.
Integration with Native Applications
Full integration with Mobile device applications to bridge the information gap between mobile and server.
5.
PUSH Synchronisation
Mobile CRM+ eliminates the pain of traditional synchronization methods.Automatic synchronization between mobile devices and the CRM server makes sure users always have access to the most up-to-date business information. It not only detects the activities/events/tasks pushed to your mobile from your enterprise servers but also alerts you at the scheduled time so you can act on them.
6.
Easy Deployment
Mobile CRM+ is quick and easy to deploy, and very easy to customize – removing the need for expensive programming and IT time. One set-up deploys Mobile CRM+ to multiple devices and it's easy to centrally manage multiple users and CRM systems.
7.
Fully Secure
Information is fully secured when stored on device and transported over network.
8.
Complete Solution
No third party/external middleware, database or applications are required.
9.
Easy Customization
Mobile CRM+ can be easily customized to suit a company's requirements.
10.
Affordable
Mobile CRM+ requires small investment. The licenses can be purchased in small quantities and scale up as per the requirement.